Contact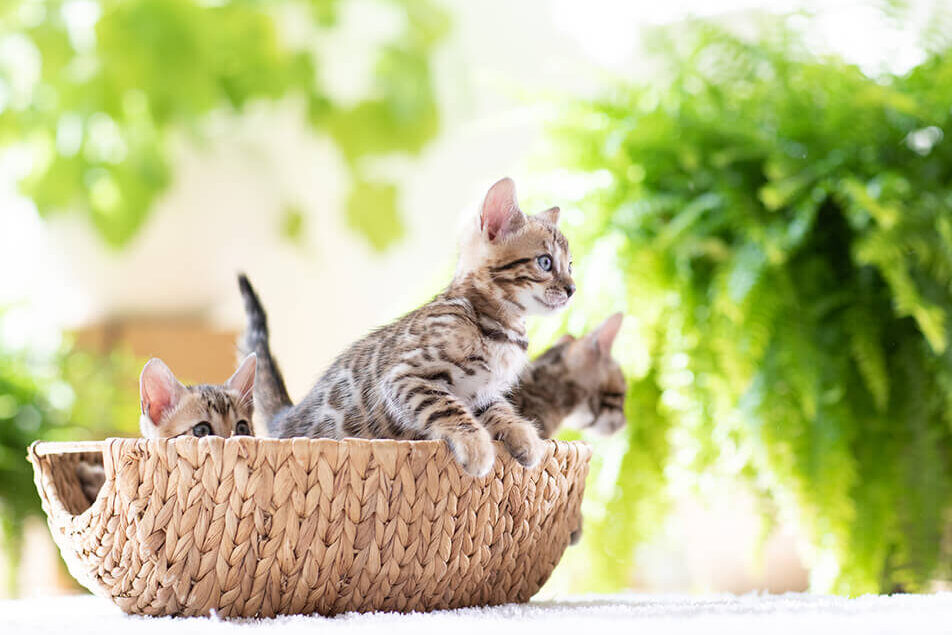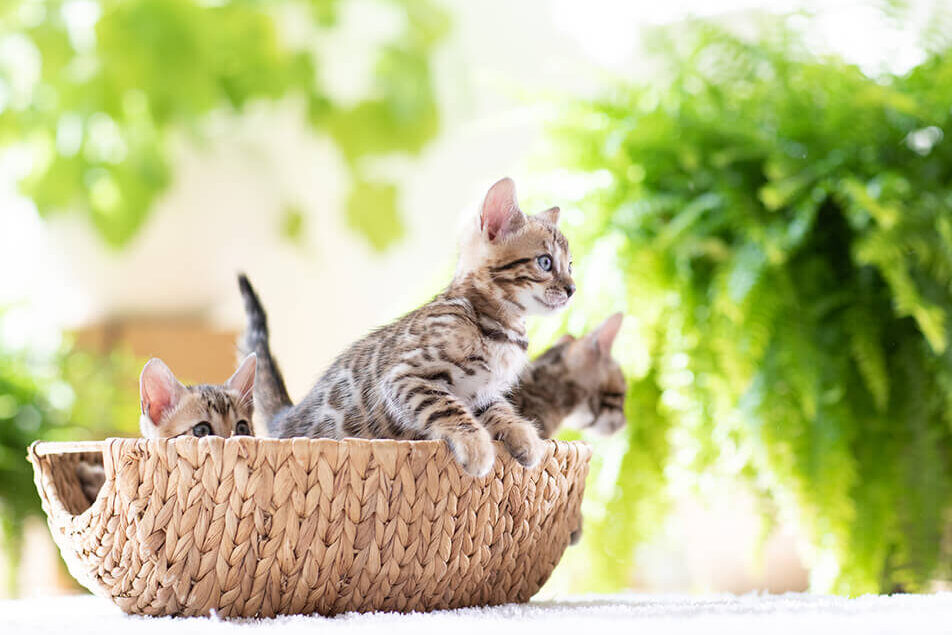 You have a question? Find the answers here!
Application
Like the food bowl, the litter tray is part of the basic equipment of every cat owner. The rule of thumb is: at least one litter tray per cat and per floor.
By the way, this also applies if your cat belongs to the so-called "free roamers", i.e. if it spends its time outside and usually does its business there; the free-roaming cat also wants to find a quiet place indoors.
The ideal cat litter tray is made of high-quality, easy-to-clean and recyclable plastic. It must offer enough space, because cats like to turn around. They also often deposit liquids and solids in different places.
Kittens need a special litter tray. This is smaller, with a lower rim and has an entry aid.
Replace the litter tray after two years at the most, because repeated scratching can cause cracks in the plastic, in which waste can accumulate over time.
Whether with or without a hood – that is certainly a matter of taste. However, many cats do not like toilets with a hood. Other cats don't care whether a hood arches over the bowl. In any case, the decisive factor is the space, which must be sufficient: Your cat wants to be able to turn around, perhaps choose corners for the big and small business and bury its droppings.Ideally, an open litter tray has a rim that curves inwards. This way, hardly any litter gets outside. If a grain of litter does go astray, a special mat can be placed in front of the litter tray and a small battery-operated hand hoover can be placed nearby.
The litter tray should be easy for your cat to find. She must be able to get in and out of the litter box comfortably. Small and old cats should not have to climb stairs to find their quiet place.Above all, the place should accommodate your cat's natural need for discretion and quiet: below a window is therefore not a favourable location. Also avoid places next to food or in an environment where sudden disturbances and noise are to be expected (for example, behind doors or next to a washing machine and dryer).
The best way to clean the litter tray is with hot water and neutral cleaner. Chemical smells discourage cats from accepting their toilet. It is therefore better to avoid pine, vinegar additives, disinfectants or cleaning agents containing ammonia. Then fill the cleaned litter tray again to a height of 7 cm with Cat's Best litter. If you regularly remove lumps and solid excrements and replace them with fresh litter, you can save yourself the weekly basic cleaning: A basic filling of Cat's Best litter lasts up to 7 weeks.
To remove the clumps easily, it is best to use a scoop with a grid spacing of 7 to 9 mm: only the soiled clumps get stuck there – the clean litter drops back into the litter tray!
Because odours are caused by bacteria when they have enough moisture available to them, the best way to combat both is to remove the moisture from them.
Cat's Best naturally fights odours actively – and already in advance:
With its technologically refined active wood fibres, Cat's Best ensures that odours don't stand a chance; they absorb moisture in an instant and lock it in permanently: no moisture – no bacteria and therefore no unpleasant odours!
Cat's Best litter should be filled to a height of at least 5-7 cm.
Remove lumps and solid droppings regularly. For easy removal of lumps, the Cat's Best Special Scoop is ideal.
Cat's Best can be returned to the natural material cycle after use in several ways in an environmentally friendly, cost-saving and odourless manner.
If permitted by local regulations, individual lumps that form after the cat has gone to the toilet can be disposed of in the household toilet – when they come into contact with water, they dissolve immediately so that the toilet cannot become blocked. The amount of Cat's Best cat litter produced by a complete change can either be disposed of in the organic waste bin or composted.
Small amounts, such as the daily lumps, can be disposed of directly and conveniently via the household toilet, as the litter dissolves completely in the water. Wastewater disposal is regulated at the municipal level. Therefore, it is important to observe your local waste disposal regulations.
Yes, and how! Because Cat's Best not only ensures species-appropriate, comfortable cleanliness in the litter tray, but also contributes to the well-being of humans and animals in other ways.
No. Cats – no matter what breed – are individualists and have very different needs when it comes to cat litter. A cat that does not like its litter usually shows this quite clearly…
Yes! Cat's Best Universal was developed especially for small animals, the optimal litter solution – especially when several, different animals have to be cared for in the household, such as cats, rodents and birds. Cat's Best Universal is ideal for daily cleaning. Can be used as a complete litter or in litter mixtures. Tried and tested as an additional litter for particularly damp areas, e.g. around drinkers, etc.
Cat's Best Smart Pellets is the first cat litter in the form of clumping mini pellets. The special shape of the pellets reduces clinging to fur and paws, thus reducing the need to carry the litter out of the litter tray.
Uncleanliness and marking of the cat can have many reasons:
Is the litter too coarse for sensitive paws? Or is the litter tray perhaps too small, badly placed, unclean? Does the animal have health problems or is it stressed by a changed situation? There are a whole range of possibilities to find out and check.
The consumption of Cat's Best is safe for health, because it is an organic vegetable fiber litter, which is easily digested. Especially young cats are often very curious, they sometimes explore the litter box; to avoid unpleasant consequences in case of accidental swallowing of the litter, especially for kittens the best choice is a litter made of pure plant fibers that is easy to digest.
Cat's Best is the world's best-selling/most popular cat litter made from plant-based raw materials: In over 65 countries, cat lovers swear by the innovative Cat's Best cat litter, which combines nature and hi-tech.
Here you can find the shops that have Cat's Best in their range.
If you store Cat's Best dry at room temperature in the sealed packaging, the cat litter remains fully functional and can be used indefinitely.
Functionality
Cat's Best is 100% natural with no chemical additives, completely biodegradable and totally sustainable.
Ingredients
What the Rettenmaier family started in 1878 in Rosenberg, Swabia, with the acquisition of a wood mill, is today a globally active group of companies with 31 production sites worldwide – 9 of which specialise in cat litter alone – 26 country sales organisations and a worldwide technology, logistics and service network.
PEFC stands for "Programme for the Endorsement of Forest Certification Schemes". This certification guarantees that the products labelled with it come from sustainable wood cultivation. Cat's Best is made exclusively from PEFC-certified secondary wood raw materials.
Since 2015, end consumers have had access to the new international PEFC online database, where they can check the current certification status of all PEFC-certified chain-of-custody operations worldwide.
Cat's Best is a natural product and consists of 100% natural softwood fibers from spruce, fir, pine or douglas fir. These wood species naturally have a different colour. The storage and drying of the woods also plays a role – and in the production of Cat's Best – so does the mixing ratio of the woods.
All this can change the colour, but one thing always remains the same: the quality of Cat's Best.
Effective liquid retention and odour control by natural means.
Extremely low transport weight
Biodegradable
Natural, pleasant wood scent – without perfuming
Sustainable raw material extraction – PEFC certified
Unlike mineral litter, which is mined in open-cast mines, plant-based cat litter does not devastate landscapes. In addition, with vegetable litter there is no waste that has to be disposed of in landfills as with mineral litter – here more than 400,000 tonnes a year and in Germany alone.
Cat's Best Comfort (see above).
Young, inexperienced cats in particular can swallow individual granules, which then clump in the gastrointestinal tract and can thus lead to blockages. We therefore recommend that kittens and young cats start with non-clumping Cat's Best Comfort litter and then switch to Cat's Best Original at a later stage.
In cats, olfactory experiences are directly translated into emotions via the so-called Jakobson's organ; they therefore perceive unpleasant odours more directly and more disturbingly than humans. The plant-based cat litter Cat's Best smells naturally fresh like wood and feels particularly soft – so it's also a treat for sensitive paws.
Cat's Best Sensitive develops its anti-bacterial effect naturally through an anti-bacterial active ingredient from nature, which is added to the litter through the green beads.