Many cat lovers ask themselves time and again: "What kind of furniture does my cat need?" – we have accumulated all relevant information around the cat furniture topic for you here.
Obviously the first piece of furniture coming to mind is the cat toilet – the classic item no cat household can do without. Outside cats also need them, actually. There is no doubt that this important accessory provides hygienic conditions and guarantees peace of mind for all inhabitants. Two toilets are always a good idea, as cats like to have separate options for business "number one" and "number two", if possible. But a cat toilet can't be all, can it?
What piece of furniture do they love most? Which ones make for a "fit" cat's home environment? Is there such a thing as "HouseBeautiful with Cat" – or is cat furniture bound to be fluffy and bulky in the first place?
The retail world nowadays offers a gigantic collection of furniture items for cats. Everything is possible! Imagination knows no boundaries:
From exquisite designer piece to curiosity – the only remaining question is: What exactly would your cat make of it? However, cat furniture is chiefly designed to please he buyer – the human, who will make sure that each new piece acquired will match the ambiance at home – unfortunately this choice is often not ideal or even of functional value for the cat.
What furniture is species-appropriate? What makes sense without serving as a mere eye catcher? Furniture items should always make sure to improve your cat's living quality, adhering to its natural needs:
It should provide space for play and fun – as well as for rest. Retreat is a natural behaviour for cats. If they need their space they will retreat to a safe place – preferably at an elevated level to grant them an overview. Likewise, you should obviously make a choice between indoor and outdoor furnishing.
Indoors cat furniture
What is your preference regarding interior? Mainstream or Bauhaus style? – Keeping a cat won't have to mess with your style, your interior dreams are not at risk! There are fitting items of cat furniture for every taste nowadays. Just make sure that the design follows function; otherwise your cat will never benefit from the new furniture. Just make sure that you and your feline friend will both be happy with the new furniture!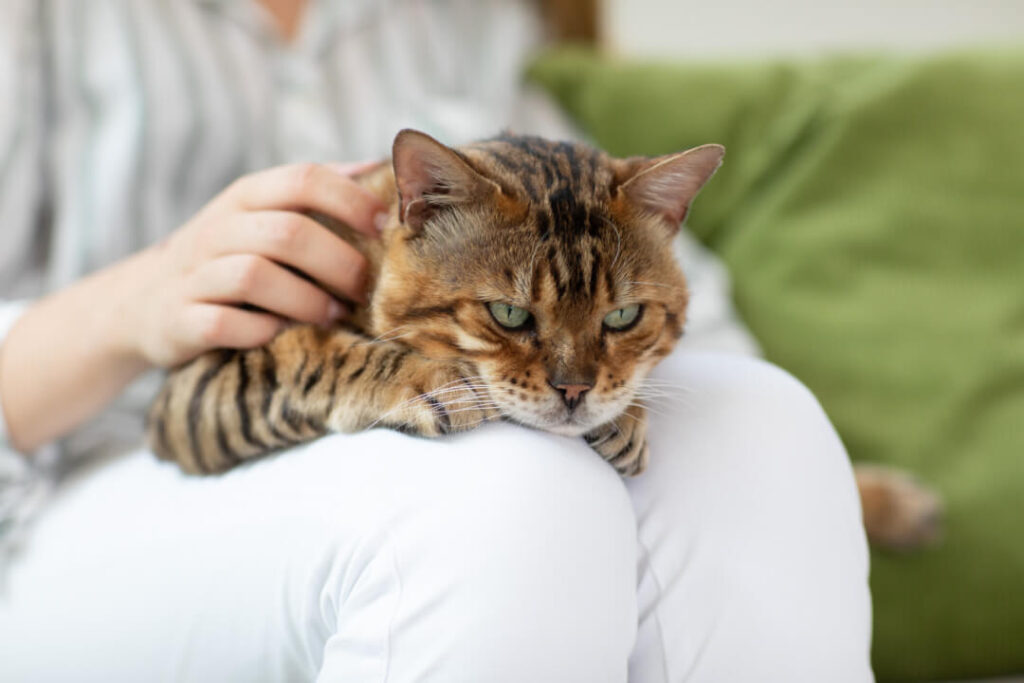 Cat furniture for the wall
Apart from the litter box, each cat household will obviously need feeding and water bowls as well as various resting places.
Before you go and buy additional cat furniture, you should think about how to make use of the various rooms: What about space requirements? And what fits better: Something you can place right in the middle of the room or something space-saving that can be put up near the wall or on the ceiling?
You can afford your feline friend various units for play, climbing or rest; e.g. combining suspension bridges and running boards can form a fascinating climbing wall for your cat.
TIP:
For those who like to start with one piece only – here is a suggestion for a DIY cat tree for the wall
Cat furniture for the ceiling
Above the clouds: One of the most exciting lookout spots for cats is the ceiling! The boundless freedom of a catwalk fixed to the ceiling can be very attractive! It is incredible how a cat elegantly jumps von one element to the next in dizzying heights!
Up there, they are in their very own world which no one can enter – not even human beings. The cat owner can retreat and watch everything at a distance from below. The objects hanging from the ceiling such as boxes, tunnels or shelves can be combined with bridges or planks, which you can reinforce with sisal rug pieces for more texture and safety – this will also provide welcome scratching opportunities!
cat furniture from style cats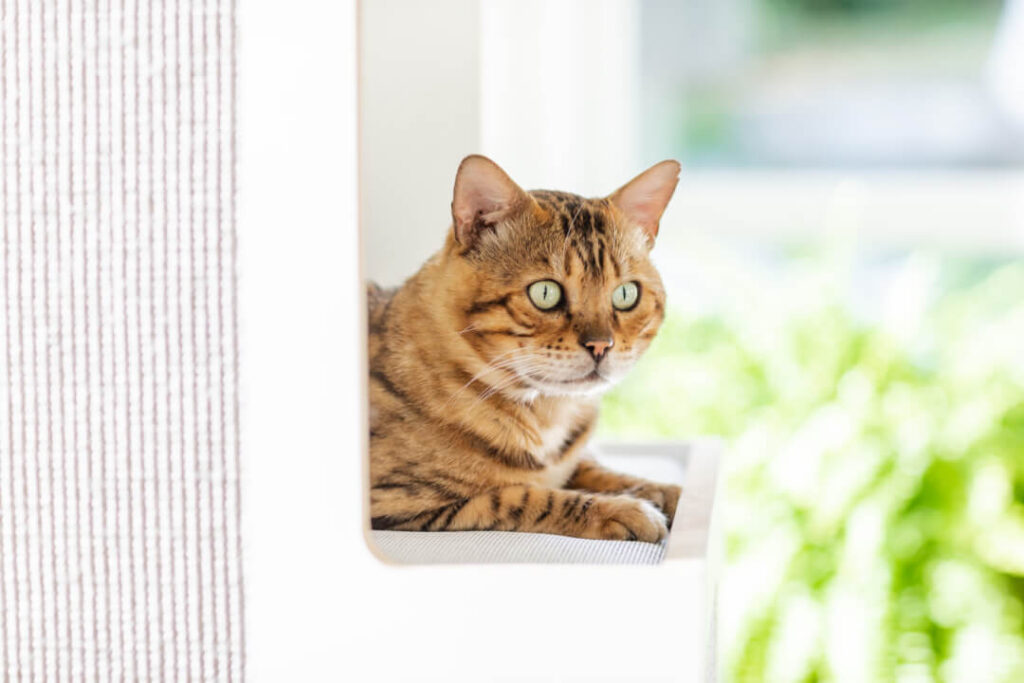 Cat outdoors furniture
Cats with access to large outdoor areas deal with a multitude of sense impressions all day long. House cats however need to make do with a much smaller, primarily human-oriented living environment. Therefore the general rule is – out into the sun when and where possible!
Even most devoted house cats love a stroll outside – on the balcony, terrace and of course in the garden, if there is one. There are so many things to explore outside! Scents, sounds, prey – as in birds fluttering here and there – it would certainly be wonderful to spend the entire day here!
The outdoor furniture for cats should be fit for all weather conditions.
The decisive factor is the material. If made of wood, it should be waterproof and moisture-resistant to avoid swelling. The best choice for outdoor cat furniture therefore are water-resistant screen printing plates.
Cat furniture for the balcony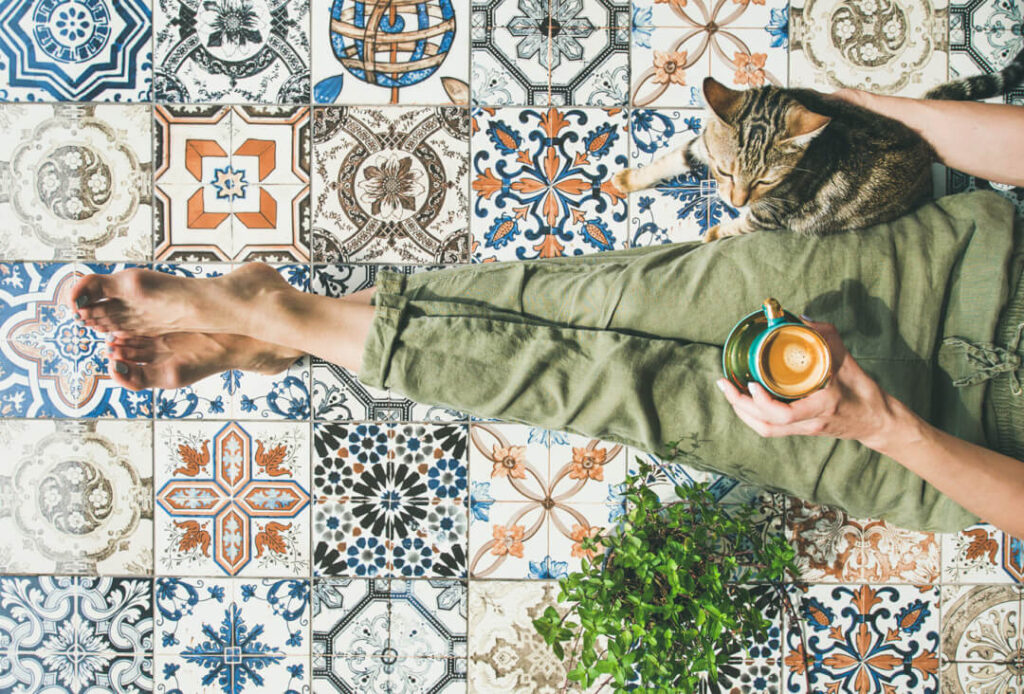 First of all, the balcony needs to be a safe environment for the cat. Nets are available at mesh sizes between 20 and 50 mm.
To be on the safe side, please opt for a small mesh size, so that the cat will not get any wrong ideas. They are surprisingly flexible when it comes to slipping through the tiniest hole, if the situation warrants it…
Only use high quality materials, preferably UV-proof as well as tear- and chew resistant. Your cat will appreciate if, in addition to your own deckchair, there is also a corner reserved exclusively for climbing and resting – preferably set up in the shade – that way you will both be enjoying the balcony to your heart's content!
Cats love cat grass!
A chill-out zone with special cat grass on your balcony will be even more appreciated!
DIY – here is a guide for setting up your own cat relaxation zone easily and quickly:
Cat furniture overview
A seemingly endless universe – the cat furniture market is simply gigantic. If you are looking for the perfect item, be prepared to invest patience and time.
A flood of different models and variations Cat furniture – from single item to landscape, multiple different designs are available: from Bauhaus to Ethno style – there is a match for everyone.
However, never forget over the choice of colour and shape whom the item is actually meant for!
To make sure your feline companion feels right at home, you should always choose cat furniture for your living room that matches the natural needs of the animal. It should be natural, high in quality and safe. "HouseBeautiful" designs for cats will never only look great but should at the same time meet certain specific demands:
Scratching furniture
Done your nail care today?
OK – we all know the story about the destroyed designer sofa – a cat cliché of the worst kind, is it not?However, sadly there is some truth behind it:
Scratching is and always will be an elementary need for all cats:
The claws are by far the most important "tool" for a cat. Without functioning claws, a cat will not be able to hunt properly; they are needed to catch and keep the prey, but also for climbing and jumping as well as balancing.
Provide ample and attractive scratching opportunities for your cat so that it can look after its daily nail care to the heart's content – as much as possible – but at least 1-2 scratching spots per room.
Scratching post
It is always best to choose a scratching post made of natural materials – such as toxin-free woods. High quality workmanship and chemical-free materials will also benefit both you and your cat. These items may be available at a slightly higher price level than others but, in the long run, a solid scratching post is always well worth the investment.
Are you still unsure about the best choice? In addition to the "TOP 10 of scratching posts", here are the latest "cat tree" tests for you
Scratching column / Cat tree
In lofty heights…
almost as high as a big shrub or tree out there in the wild – that's how a scratching post should be – apart from solid and stable. Dizzying heights to cats mean a good overlook.
Just like a real tree, a good scratching post should feature a kind of bark made of natural material, not only as a climbing support but also doubling as nail care – here the cat can sharpen its claws to the heart's content.
Out in nature, real trees serve exactly the same purpose: the rough quality of the bark provides enough resistance and is thus the ideal keeper of fragrance substances; the claws are sharpened and filed while excessive horn tissue is simply scratched off on the tree bark.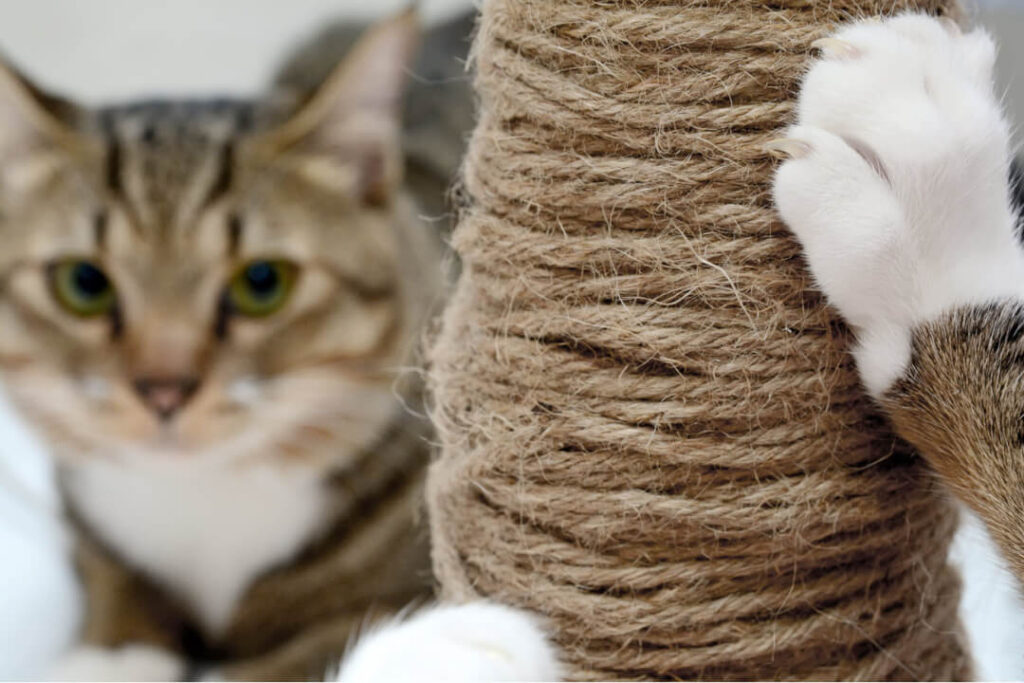 Scratching barrel
Scratching barrels are available as a single basket, with several entrances or comfy resting posts inside.
Double decker: Scratching barrels provide a terrific scratching surface the house cat, just like a cat tree, as well as offering extra benefits: After scratching and nail care, these objects offer space for a refreshing cat nap after the work is done
– a piece of furniture with multiple functions for your feline friend!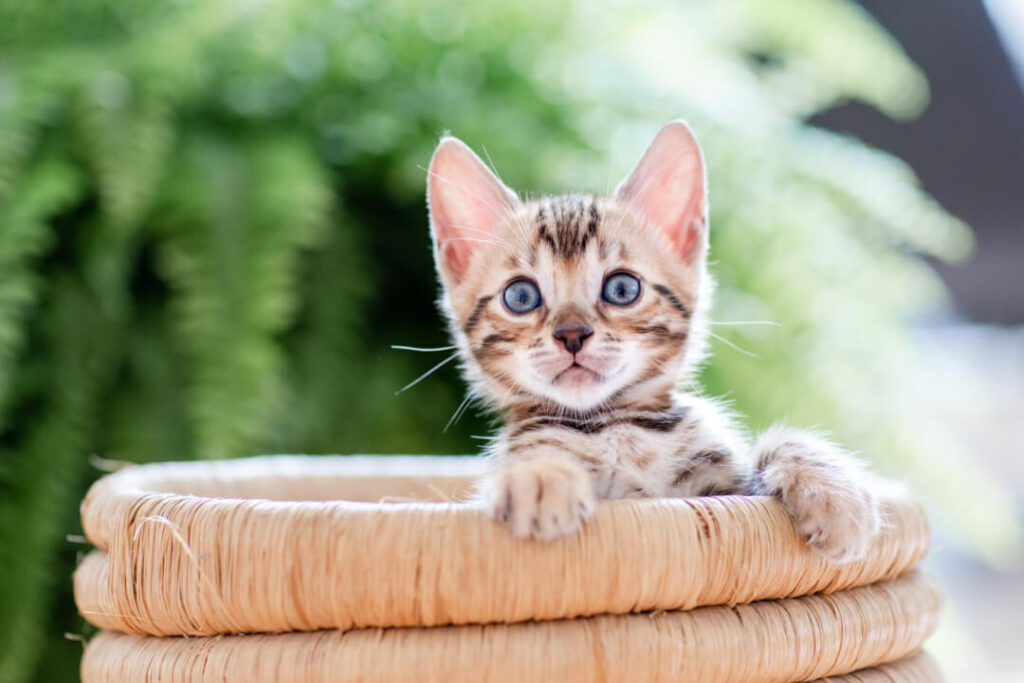 You should always make sure that the outside facing material is robust enough for scratching activity. Inside, the cat will appreciate soft paddings, inviting it to relax. Here, the animal will be wonderfully protected from view – a private retreat for relaxation. – A scratching barrel may quickly become the favourite piece of furniture for your cat!
Scratching boards
Wood or cardboard? – that is the question many cat fans ask themselves before venturing out to buy the perfect scratching post.
Which is the better choice?
Concerning stability, non of the designs is superior to the other – given a high quality is guaranteed for the cat tree in question: A special hardboard covering can be as robust as solid wood.
Anyone who has ever had to carry a 2 m log of a cat tree up to the fourth floor, may have realised in hindsight that a hardboard version might have been the better alternative…
The light weight version made of cardboard is much easier to carry for people other than professional weight lifters – and the piggy bank will also appreciate the choice, as the cost is a lot more economic as well.
Scratching boards
A scratching board is – as the name implies – in essence a simple board inviting the cat to use its claws: A rectangle wooden plank covered with scratch-resisting material. A scratching board can either be attached to the wall or to specific pieces of furniture as a protection against scratching marks.
And if you combine two boards with each other at a 90 degree angle, you will get? – Exactly! A+ for paying attention in maths class! – a scratching corner in your living room.
For those who don't like edges, the boards are also available in oval or round shapes – there are virtually no limits to personal taste these days! You will quickly learn if your cat enjoys a circular piece of furniture – promised!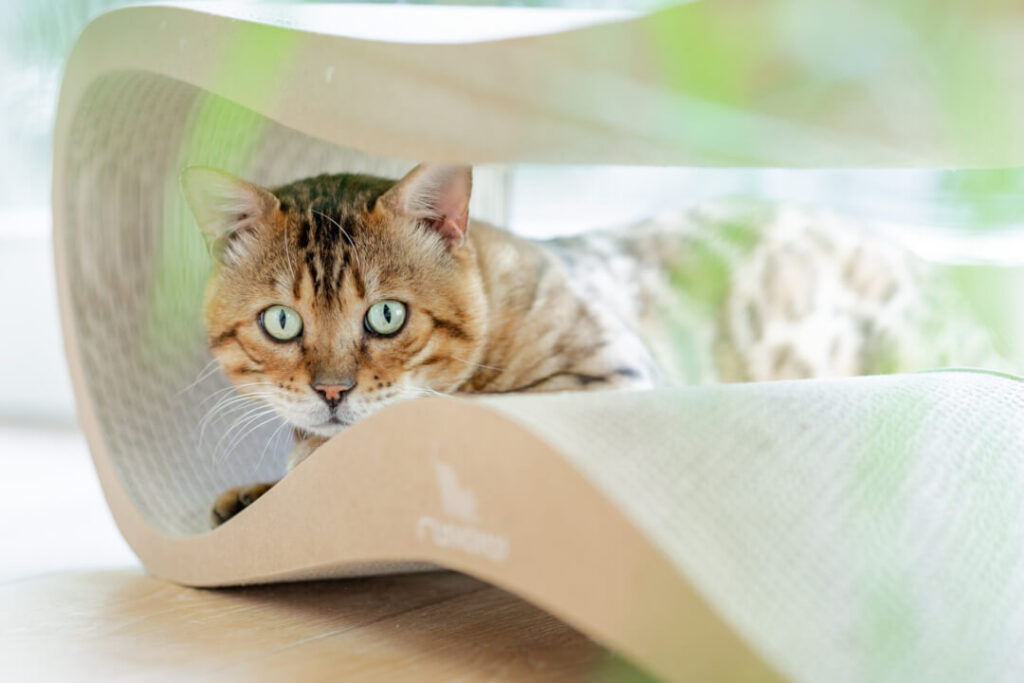 Cavernous furniture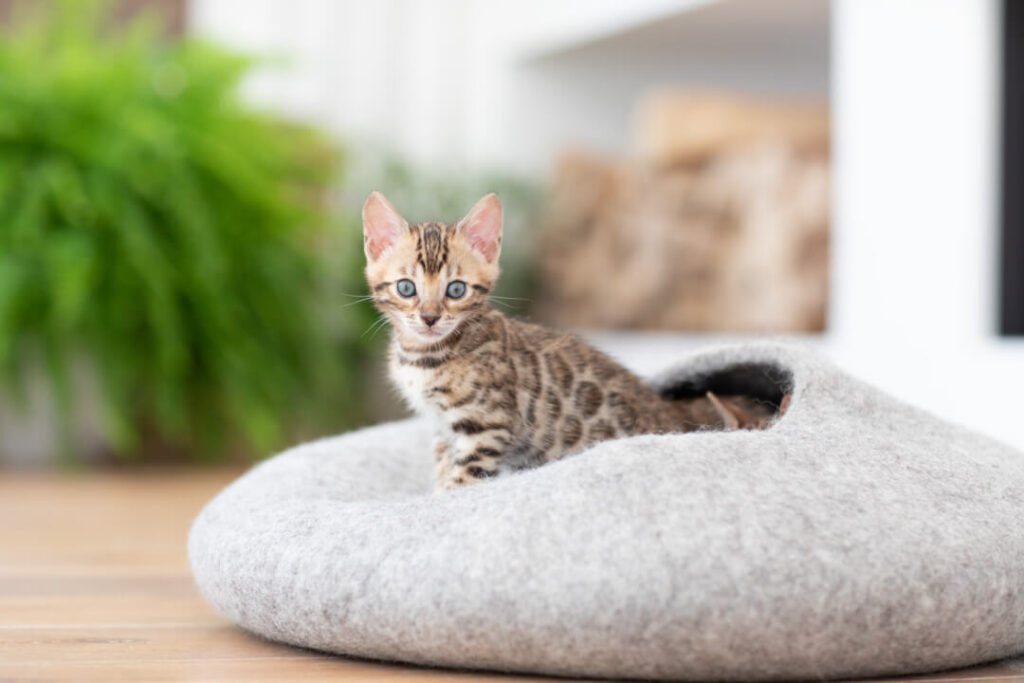 No matter if indoors or out in the wild – cats will always be on their guard, surveying the environment closely. If things get tricky, they can quickly retreat to a safe space. In nature, this can be either a high tree or a safe hiding place where potential enemies have no access.
Within the living quarters, cats like to withdraw to a spot where they are safe from any disturbance – but also cardboard boxes, baskets or bowls (!) are likely to be occupied.
Because here, a cat will feel just at home! The environment is "safe", they can simply roll up and it is nice and toasty – the ideal place for well-being and a timeout! Provided one doesn't have to play cushion…
Cat tunnel
You can provide terrific hiding places for your cat which it can claim for itself easily: the cat tunnel.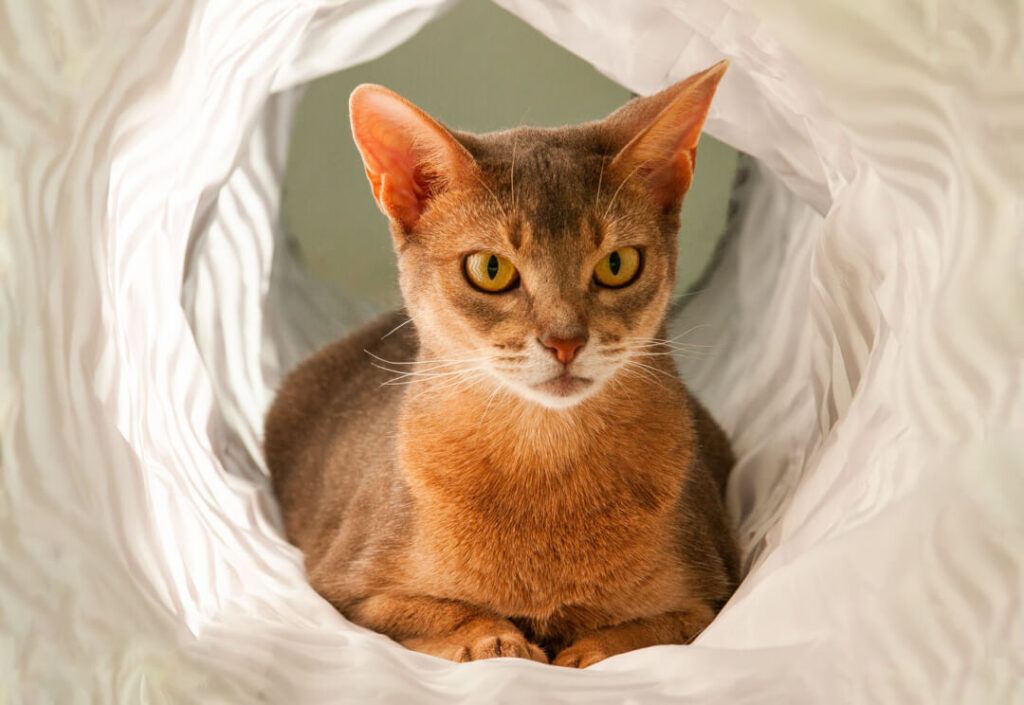 A cat tunnel is a multi-purpose piece of furniture:
Hide-and-seek, play, fun and adventure – all covered! And after the workout, one can take a relaxing nap in blissful seclusion. The tunnels are available as a single tube or with one or several branches – depending on the space you can provide.
The tunnel should always be robust and well crafted, as the cat will enjoy it longer that way. Pay attention to the diameter of the tubes – they should never be too narrow. As in case of any cat furniture and toys, natural raw materials are always an advantage especially if they are washable.
The same goes for any added chemicals – they are to be avoided no matter how attractive the look!
Cat basket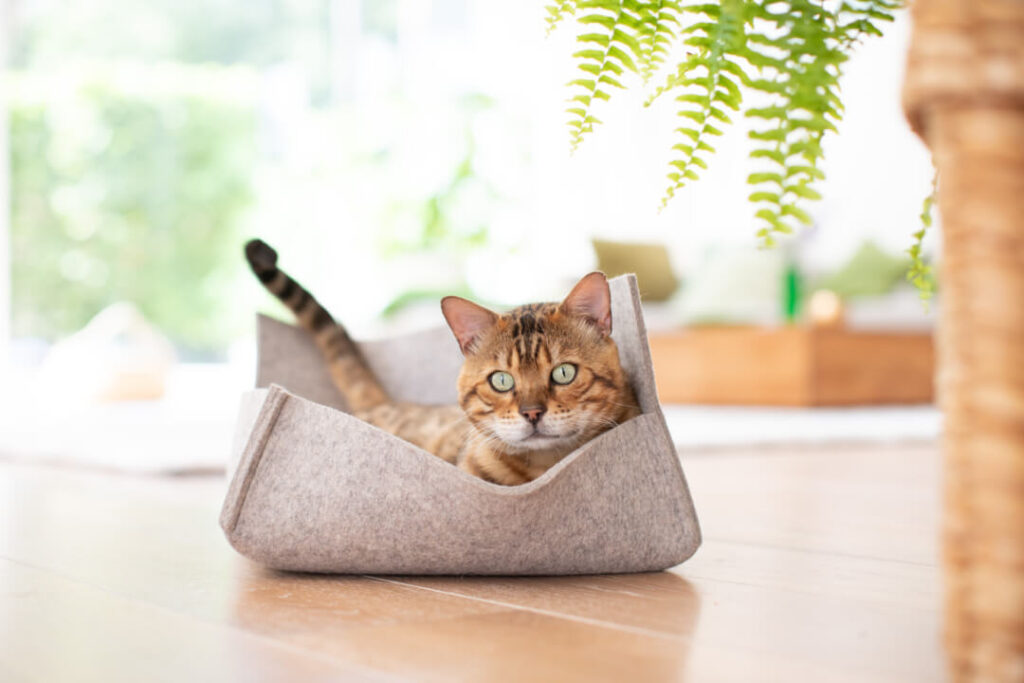 Cats count more sheep!
Cats sleep for up to 16hs per day – sometimes a little less or more, depending on both age and character. All in all, they almost sleep twice as much as humans do. That means, the bigger part of a cat's day is subject to relaxation. It is the more important that your cat has various spots for retreat to choose from.
The classic snoozing place is a comfy basket – with or without roof. For DIY instructions for a cuddly "cat cave" made of felt, click here:
Why is felt a perfect material for cats?
Wool felt is a natural product. It is extremely robust as well as dust and dirt resistant – a felt basket is therefore "low-maintenance": Simply get rid of the hair – and if necessary you can always put it in the washing machine (wool setting with a low spin cycle), bring it back into shape immediately afterwards and let it dry – ready, steady, snooze!
Cat flap
Would you like to afford your cat more freedom by installing a cat door? This so to speak means presenting your feline friend with the guest key to your house – so that the cat is free to come and go as needed.
Cat flaps are available in a vast variety of designs:
They can be installed in the wall, the window, the door or the balcony door.
We have collected all the information you need to know about your friend's new access to freedom here: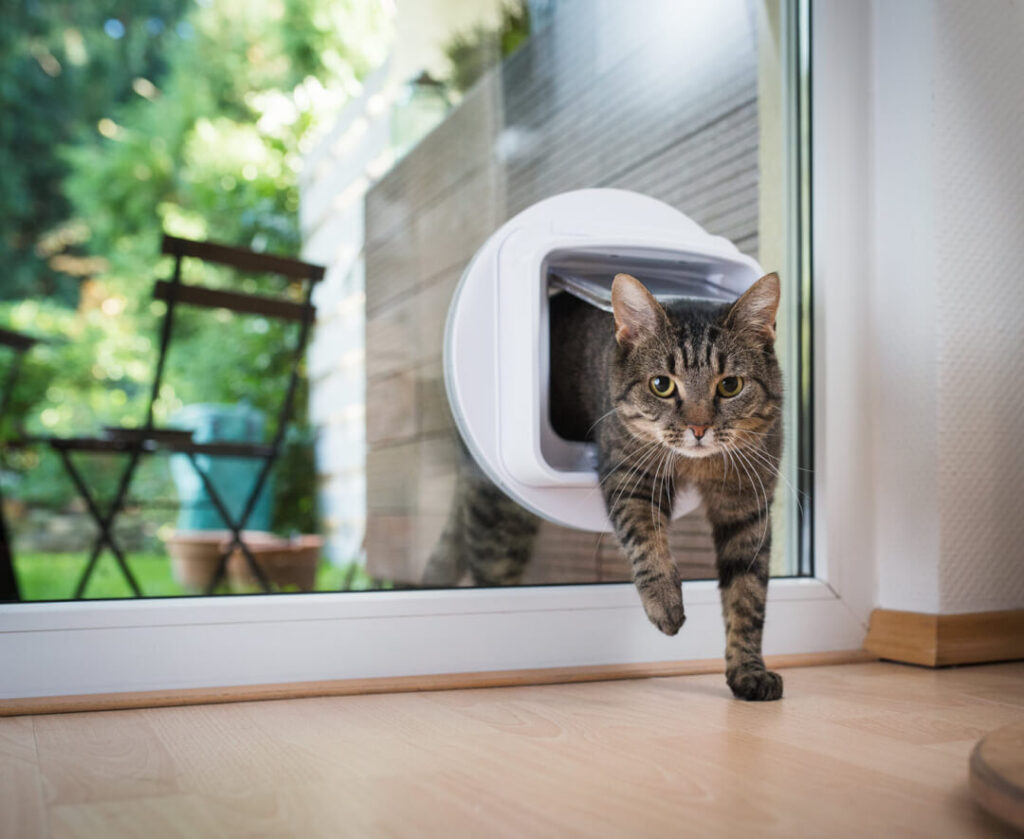 Transport box
A transport box should be part of every cat household; don't attempt to hide it in the cellar or attic. Rather, make it a permanent part of the cat's daily life – a piece of furniture it likes to attend instead of associating bad feelings with it. Put the favourite cuddly blanket inside, or a much loved toy. It is best for kittens to get used to the transport box at an early age; that way it will be less stressful to accept when it goes into action.
Make sure that the box is both practical and easy to clean: It should have several entrances, big enough for an adult cat. A perfect solution is a box with an opening middle part – so that the cat can simply be lifted in and out.
Usually, natural materials are the rule of thumb, but concerning transport boxes, you may want to choose an easy-to-clean plastic model, in case your cat needs to relieve itself.
Climbing furniture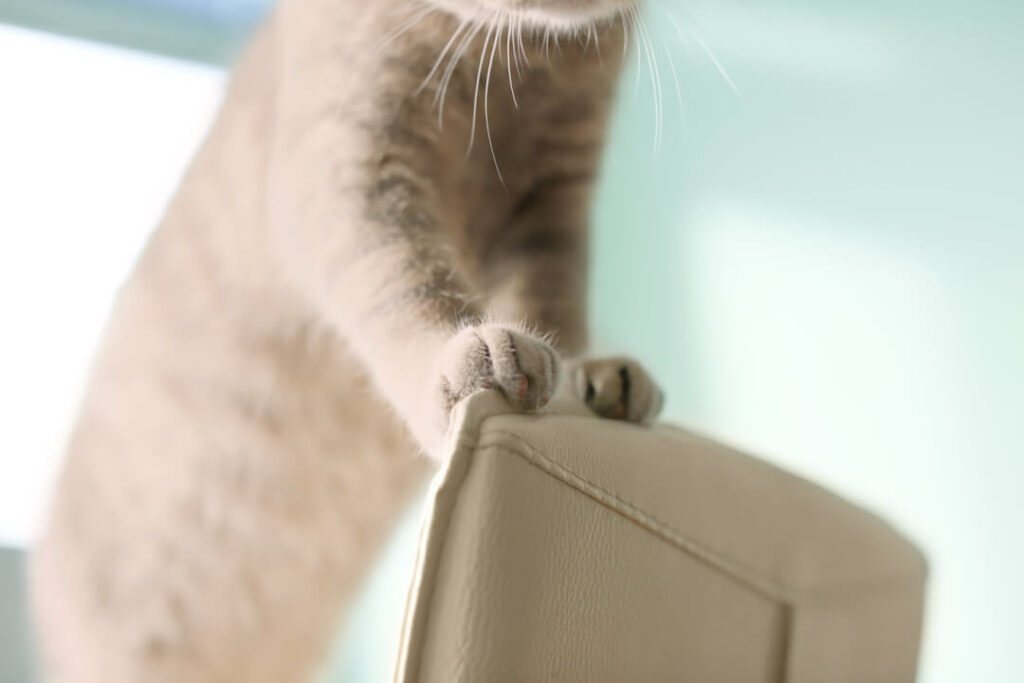 "Spider Cat" – cats are true climbing experts! Look here.
Outdoor cats enjoy a multitude of possibilities to act out their passion for climbing – while house cats in comparison have a lot less of a chance.
To avoid the use of furniture which is not really meant for climbing, you should provide some alternatives for your cat. – there is enough space for climbing fun even in the tiniest of apartments! With a little imagination and a knack for interior design you can create exciting climbing opportunities and thus expand your cat's living space.
Cat stairs
Cat stairs form an autonomous piece of furniture which belongs to the cat and is in most cases never used by a human.
In the living area, the cat stairs can function as an access to other items of cat furniture mounted at a higher level, such as shelves or resting spots. For outdoor cats, they can form an entryway to the flat: E.g. if you live on first floor and the hunter comes home at night – this is the perfect solution: Blessed are the owners of cat stairs! No need to climb out of bed to open the front door and let the cat in – no more late hours, or "cat curfews"! Thanks to the cat stairs, the cat can slip back inside the house whenever it feels like it.
Climbing wall
Cats like climbing walls!
They think it especially exciting if you create a complete landscape for them! For this purpose, simply combine several elements with each other:
You can include items like shelves as well as hiding and resting spots, like caves and pads.
Change the combination from time to time – every cat likes to conquer new realms!
VORSICHT!
Für kleine Kätzchen bieten sich standfeste, niedrigere Kletterwände an.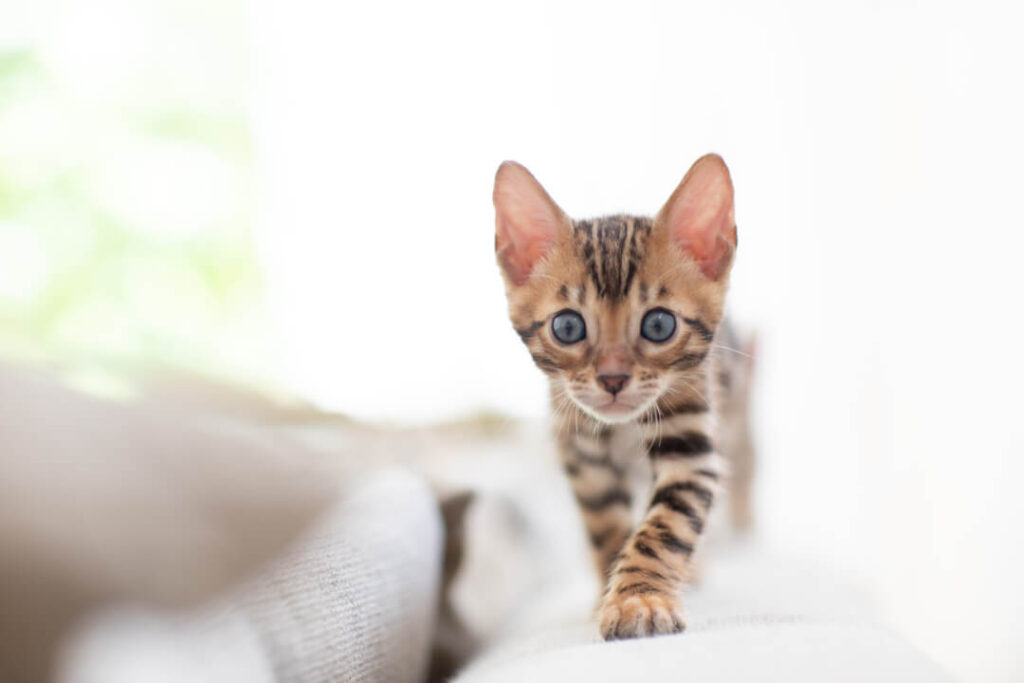 If the obstacle course is meant to be a little larger from the beginning, you should make sure for the platforms not to be placed too high up so that the kittens can still reach them safely.
Some might be curious enough to explore the whole course and even risk dizzying heights!
But as opposed to grown cats, they can't be considered safe climbers yet.
Mind that safety comes first and avoid risky heights!
A fall is to be avoided at all cost!
Cat walk
This kind of cat walk is not only meant for the fashionable cat…
However, any model can learn from a cat, concerning gait and posture, don't you think? There is a reason why Karl Lagerfeld was such a big fan of cats!
Cats don't need international catwalks to show off, balancing in dizzying heights at home is enough proof for their natural elegance.
A variety of catwalks mounted to the walls is perfect for accessing resting places and scratching posts – especially if there is not much space available in the living area.
You can create a trail of walkways and footbridges for climbing or observing the situation from different viewpoints – cats love that kind of "entertainment"!
Full Wall
This could be the end product: Wall decoration to the cat's heart content!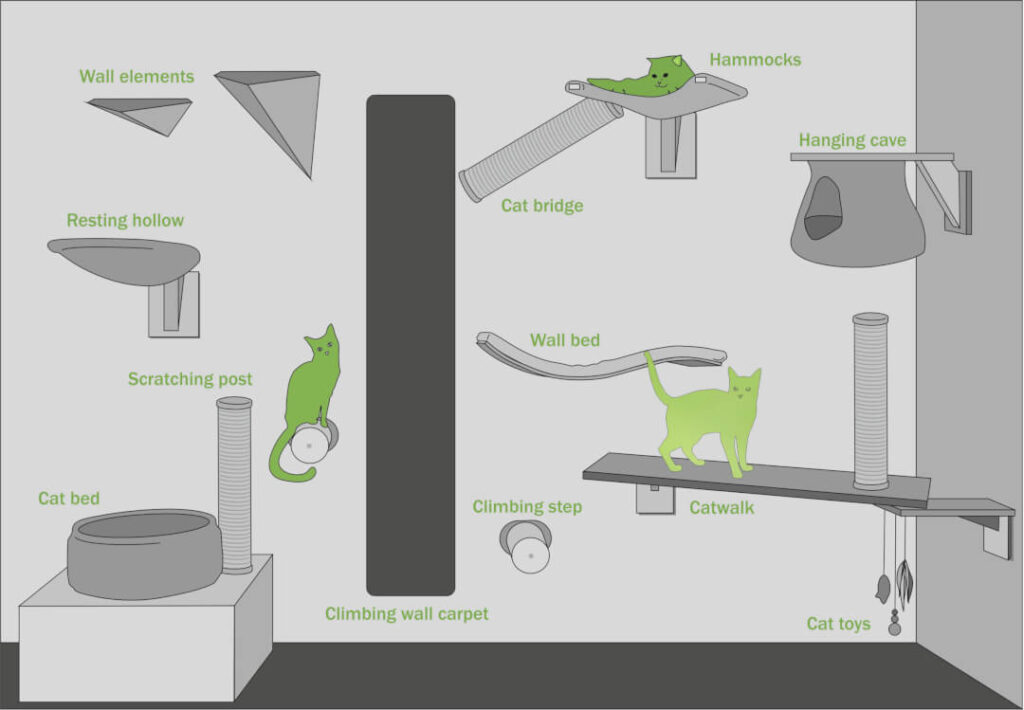 Build your own cat furniture
The cat furniture available at the pet shop doesn't fit your taste? They don't match your apartment or your purse? – no problem!
If you are a gifted craftsperson, you can always build your own cat furniture! Admittedly, DIY is not for everyone – however, a simple retreat for your cat is easily built even if you are not a born carpenter:
Voilá!
With only a small amount of resources, you can create an "Upcycling cushion" in no time – a new refuge which leaves a "green" paw print, guaranteed!
More inspiration required? Here are 39 creative ideas for furniture which you can build yourself. Be inspired… new furniture – even if very simple – can be a lot of fun!
Try it…